Ice breakers:
To get your event started off on the right foot, to facilitate the communication and interaction between your attendees, our ICE BREAKERS will provide the necessary tools. They will allow even the most timid attendees to meet several people in a record time and interact with several groups. This is the perfect formula for a cocktail, a product launch or to begin a congress, a symposium or a conference.
Meeting games:
Genuine Productions offers original, quick and fun activities for leading creative, energetic and productive meetings. All meeting games are created to keep your meeting participants awake, involved and eager to provide input and solutions.
Actors and characters:
We have several characters to propose to add value to your cocktail, banquet, product launch, golf tournament, gala, annual meeting or Christmas party...(the crazy waiter, the fake attendee, the police officer, and hundreds more...) Do not hesitate to ask the actors to create the character of your choice.
Dinner & shows: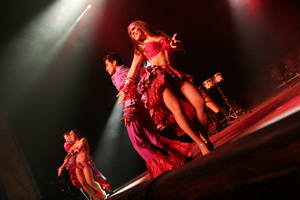 Much more than a typical dinner & show! Murder Mystery (many different scenarios available), The Funny Banquet (A group of comedians will bring several funny characters to your table during the meal), Variety of games (Casino, Karaoke, The Crazy Bingo, and many more...).
Artists & shows:
Acrobats, contortionists, dancers of all styles (Latino, Cabaret, Charleston, Country, Classical...) comedians, thematic shows, hypnotists, magicians, imitators, ventriloquists, circus shows, street performers, pick pocket, caricaturists (with or without giant screen)... Genuine Productions have the show for your needs and budget!

Interactive Quizzes:
Quiz on a giant screen, animated by professionals. Possibility to adapt the quiz to your theme and/or company or training (Let's Make a Deal, Price is Right, Trap questions, Movie Quiz ..)
Rallies:
They can offer you the possibility of the Grand Prix Rally, the Wine Road Rally, the Pedestrian Rally... Many adventures await the participants!
Musicians, DJs & Vocalists:
Everything to create the perfect mood for your cocktails, banquets or award ceremonies.
Animabus:
Not a regular bus trip. Make time go by fast in the company of our MC-Comedian, who will entertain you from departure to arrival. An idea that makes all of the difference!